2021 3 Weeks Summer Camp and Academy Program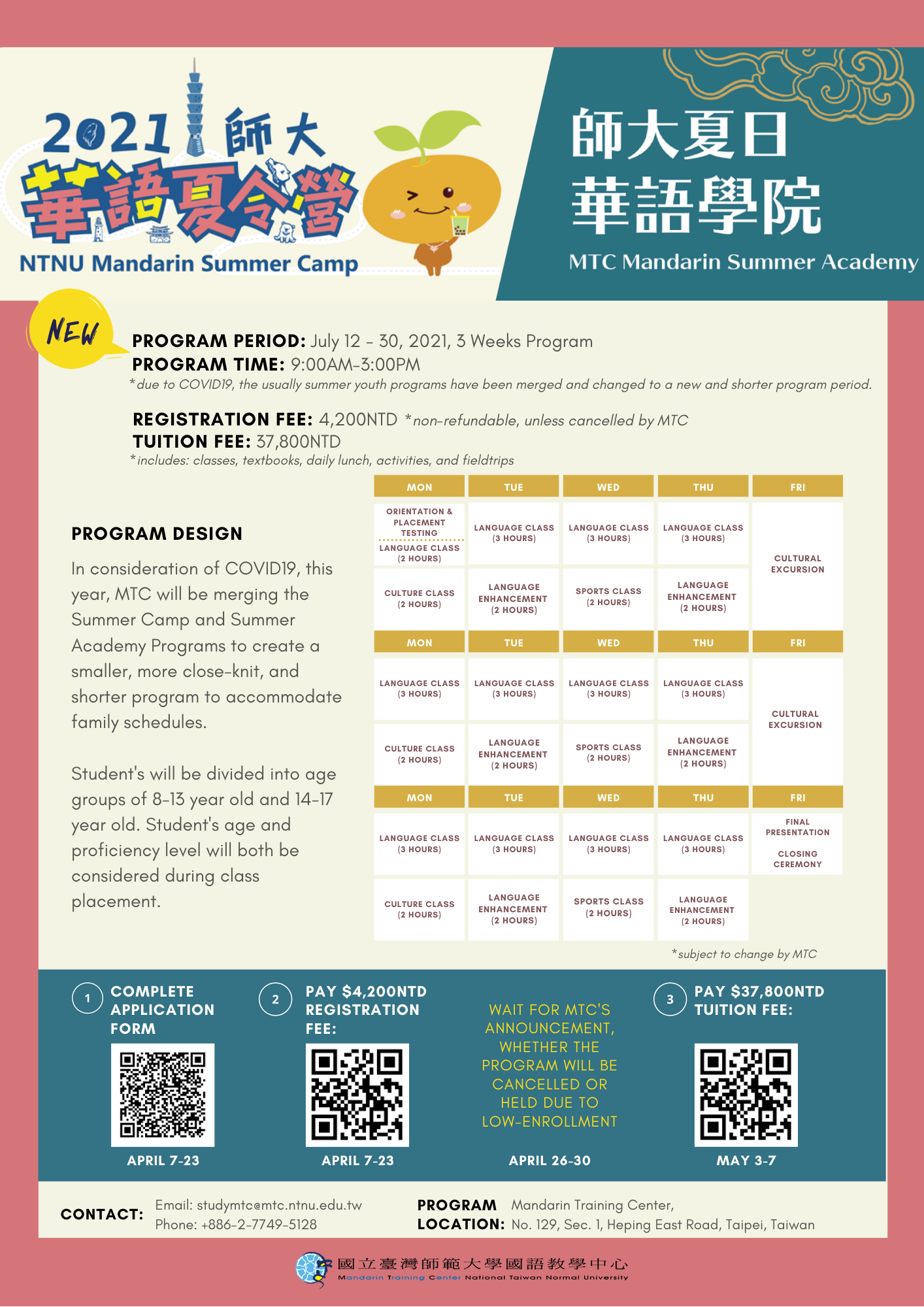 2021 3 Weeks Summer Camp and Academy Program
Due to COVID19, the original program and program dates have been changed to a 3 Weeks Summer Camp & Summer Academy from July 12th to July 30th, 2021.
---
New Program Information:
Program Name:

3 Week Summer Camp & Summer Academy
Program Date:

July 12th - July 30th, 2021 (3 weeks)
Program Times:

09:00~15:00 (Mon.- Fri.)
Non-Refundable Registration Fee:

$4,200NTD
*Please note: Due to COVID, MTC will be combining the Summer Camp and Summer Academy Program. Students will be divided into age groups of 8-13 and 14-17. During class placement, MTC will be consider both Chinese proficiency level and student age.
* The registration fee will only be refunded if the program is cancelled by MTC due to low enrollment or changes in COVID19 conditions.
---
Application Link (ONLY apply if you are certain the student will be able to enter Taiwan or is already in Taiwan) :
https://forms.gle/5Y36rmT6RUA2CHfe8
Due to COVID health and safety consideration, the maximum number of participants for this program will be 50 students (25 students for the 8-13 year old range, 25 students for the 14-17 year old range).
We will go by a first come first serve process, and student who apply after our maximum number of participants will be placed on waiting list.
Payment Period:
| | | |
| --- | --- | --- |
| | Fee | Payment Period |
| Registration Fee | $4,200NTD | April 7-23 |
| Tuition Fee | $37,800NTD | May 3-7 |
Payment Method:
Credit Card Payment Link: https://reurl.cc/MZGbgL
To complete the enrollment for this program, please make the $42000NTD Registration Fee before April 23rd AFTER completing the application form.
---
We Ensure a Safe and Healthy Learning Environment
Please be rest assured that our team has taken COVID19 into consideration when designing the program. We will be following the CDC and school COVID prevention protocol to ensure a safe learning environment. We also have the online system on hand in the case an emergency transition is needed.
We wish to give students the opportunity to have a fun and safe learning experience during this hectic time period.
Feel free to reach out to our team if you have any concerns in regard to this.
附件下載